New York Marathon 2013 - Return to New York.
After a Hurricane Sandy-inspired false start in 2012, the Crows Foundation Marathon Team will once again set out to conquer the New York Marathon for the Crows Foundation Charity. See the story of last year's incredible events here.

Leon Chiera, Arthur Floros, John Likos, Shane Winter, Rebecca Winter, Nick Fanning, Mel Fanning, Belinda Rawnsley, Elise Winter and Garry Winter have already raised nearly $100,000 for various charities, with the major benefactor being the Women's and Children's Hospital who were able to acquire a Neonatal incubator and a Resuscitation cot, 2 very valuable items of equipment which are expected to save many South Australian babies lives each year.

Now another year on, seven of these brave masochists are returning to New York together with 4 new entrants to take on the 42.2km of pain and suffering that is the New York Marathon.

The 2013 entrants are:
The 4 new runners are now taking on the fundraising challenge. You can donate to them online by clicking on one of the links to the left of screen.

Every cent collected goes directly to kids in need via the Crows Foundation.

A very special thanks to the sponsors, especially Macquarie Private Wealth, W Consulting Group, Winter & Co Chartered Accountants, Solstice-on-kent Queenstown NZ, Prime Valley Pastoral Company and Virgin Airlines and to all those who donated to the team or an individual team member.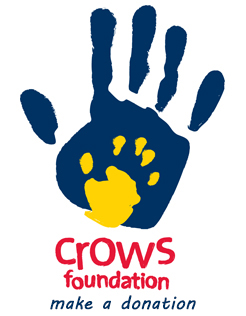 webnerds web design